DNA Atlanta Science Academy is accredited by nationally recognized global network of enthusiastic educators here to help strengthen your schools. Their holistic approach to continuous improvement encompasses accreditation and certification, assessment, professional learning, and customized improvement services.

DNA Atlanta Science Academy is accredited with Quality by Georgia Accrediting Commission. The mission of the Georgia Accrediting Commission is twofold: (l) to establish standards promoting instruction of high quality for children in Georgia and (2) to encourage schools to meet the established standards. GAC provides an accreditation process designed to establish and uphold standards, to strengthen the quality of education in each school, and to assure its membership and the general public that the established standards are related to the best educational practices.

Bright from the Start is responsible for meeting the child care and early education needs of Georgia's children and their families. It administers the nationally recognized Georgia's Pre-K Program, licenses child care centers and home-based child care, administers Georgia's Childcare and Parent Services (CAPS) program, federal nutrition programs, and manages Quality Rated, Georgia's community powered child care rating system.
http://www.decal.ga.gov/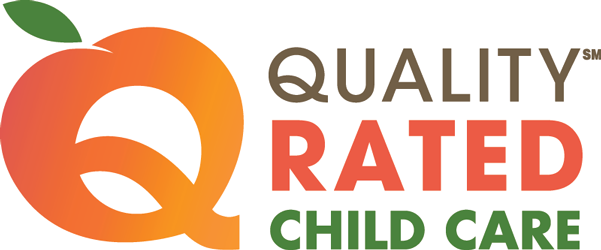 Quality Rated is a systemic approach to assess, improve, and communicate the level of quality in early and school‐age care and education programs. Similar to rating systems for other service related industries, Quality Rated assigns a quality rating to early and school‐age care and education programs that meet a set of defined program standards.
https://qualityrated.decal.ga.gov/